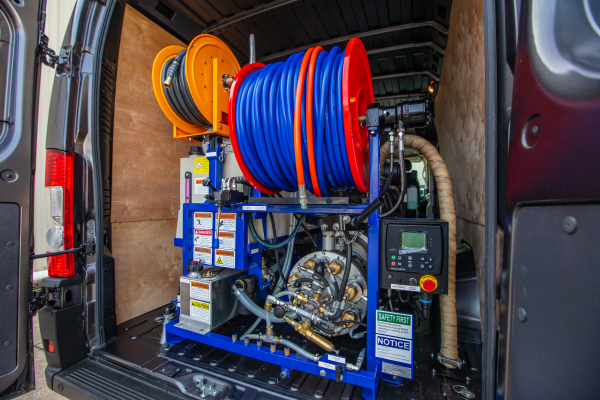 As a leading van pack jetter manufacturer, Harben offers a variety of affordable and durable van packs and equipment for domestic, commercial or industrial drain cleaning use.  Our van pack jetters are designed to be extremely lightweight, with a compact design and build quality second to none.  Each drain jetting van pack supplied comes complete with:
A range of high quality accessories, with further options available
Commissioning (Instruction on operation & maintenance)
Latest low emission engine
Most models of Harben van pack jetters are available with a state of the art 7 channel wireless remote control. This makes the equipment suitable for 'One Man Operation,' enabling jetting operations up to 500 metres from the vehicle, saving not just operating and labor costs but also keeping everyone safe whilst carrying out their daily activities.
We also offer professional installation of the van pack into your chosen vehicle. This is carried out after a thorough investigation of all the vehicle weights and dimensions.  Why not ask us to provide you with drawings and weight calculations detailing your desired Harben drain jetting van pack with your chosen vehicle. This ensures that you keep safe and legal whilst carrying out your daily jetting activities. It also helps you plan for additional payloads and storage areas within the vehicle for tools and CCTV equipment.
Showing the single result