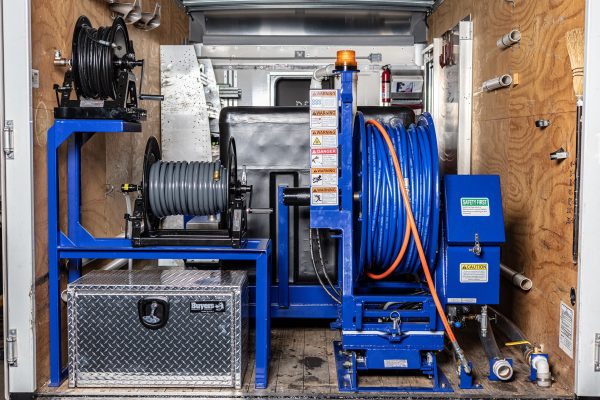 Working throughout the winter period is important because drains not only block, they can also ice up.
For drain cleaning contractors operating in colder climates Harben offers a range of fully enclosed jetters. If a trailer is preferred we can source and supply a complete machine. Trailers can be partially or fully insulated and it is possible to add supplementary heating to guarantee frost protection at all times. Alternatively, you may want to free issue us a truck into which we will complete the installation at our facility.
Options include:
Jetting performance up to 4000 psi & 18 gpm
Water carrying capacity up to 750 gallons
Single or double axle
Wireless remote systems
Whether it's for domestic, commercial or industrial drain cleaning, Harben can provide the ideal enclosed jetter.
Each of our drain cleaning trailers comes fully equipped:
Wide range of equipment as standard
Onsite commissioning
Latest low emission diesel engines
All Harben our jetters are available with a 7 channel wireless remote. This makes our equipment suitable for 'One Man Operation,' providing fail safe control up to 500 feet from the vehicle. Our remotes don't just reduce labor costs, they significantly improve productivity and enhance safety.
Experience the Harben difference and see why Harben jetters lead the market.
Showing the single result